Chrislar's History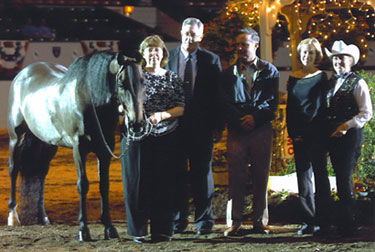 Picture a facility that's comfortable for both horses and people; one that gives the riders room to ride, the non-riders room to watch, and the horses access to comfort and good health. Enclose it with a cedar wood finished structure that's both functional, safe, and pleasing to the eye, surround it with miles of state forest trails, staff it with dedicated professionals, and soon enough you'll see a facility everyone can be proud of!
That's exactly the picture Chris and Larry Cassenti had in mind in 1978 when planning the growth of their business, Chrislar Farm. Step by step, nail by nail, their vision for a facility just perfect for horses and people became a reality. It is a place that gives their customers the opportunity to reach their goals in riding, driving, showing, and breeding. A place where every horse and rider in the show ring or out on the trails gets their chance to "shine"; to become a rising star!
Husband Larry managed the formation and expansion of Chrislar from 1978 to its capacity reached in 1989, and he continues to provide support in every way he can from maintenance to management to official Videographer at shows.
A family-owned and operated business is most likely to reflect the care and concern of the owners themselves. Customers can be assured that their needs will receive full attention, and they have the advantage of a close association with both Chris, Larry and the staff, in a "Family Friendly" environment.
The six plus acre parcel of land purchased in 1978 with an 11-stall barn and 12' x 12' tack room began to expand each year with the addition of more stalls, outdoor rings, and an indoor arena. Between 1980 and 1984, nine stalls, a front tack room, bathroom, and bulk grain feeder were added on to the 11-stall barn. During 1984, two plus acres adjacent to the barn were cleared for an attached indoor riding arena measuring 72' x 132', complete with emergency exit doors, picture windows on three sides, shingled roof, and soundproofing. This indoor arena is in full view of the connecting spacious, heated/AC observation room and large tack area for students.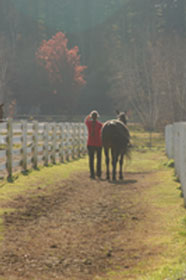 The "heated" indoor ring is an added attraction for many of Chrislar's customers who want their lesson and training programs to continue comfortably year round. At the time of the indoor arena's completion, more side and back area land was cleared to accommodate additional paddocks, an outside riding ring and a half-mile training track.
In the fall of 1987 construction began on the new facility as it stands today. Twenty new stalls were added (bringing the total to forty), along with an office, a breeding room with phantom, and two storage rooms. Four of the new stalls have swinging partitions that allow conversion to two foaling stalls with closed circuit TV; two other stalls have teasing windows in the dividing wall. The entire facility is 156' wide by 132' long, covering approximately a half acre under one shingled roof. It is functional and roomy with one main stable aisle and three aisles connecting the main aisle to the indoor arena, forming an "E" configuration.
Much effort was put
into new amenities and renovations to accommodate training horses/clients and students. The barn aisles were paved, the building insulated throughout, with fire and security alarm systems installed. A deluxe cedar paneled wash stall was built equipped with hot and cold hook ups and heat lamps. The outside rings for turnout and riding now include one front, measuring 120' x 200'; one side, measuring 130' x 60'; one back at 104' x 240' and two back measuring 100' x 100'; and one grazing field measuring 250' x 500'. The outdoor rings and grazing field are surrounded by a half mile track, thirty feet wide, complete with an underground, piped drainage system.
In the Fall of 2016 an additional 5.5 Acres were purchased abutting the Farm and the State Forest Trails; Hoping the town of Rowley will be cooperative in allowing expansion of grazing areas in the near future.
Chris and Larry want their customers to enjoy the facility to its fullest use and to benefit from all that Chrislar Farm's exquisite amenities and professional staff can offer.
Apart from the cedar wood, and posts and rails that go into construction of a full facility, Chris and Larry feel it is just as important to build a dedicated and qualified staff and winning combinations of horse and rider. This dedication has made all the growth and success of Chrislar possible.
Visit the other pages on this web site to learn more about Chrislar's staff, sale horses, customer testimonials. Our unique equestrian center / riding lesson program is a great social outlet while you improve your riding skills and attain your riding goals. Visit our photo gallery to view our facility, horses, and clients.
Chrislar's history also includes many great horses including UVM Valcour UVM Valcour, winner of over 50 Regional, National and World Championships was honored with a Peter Stone Limited Edition model (only 500) that was offered exclusively by the Equestrian Shop in Andover, MA. Chris McDermott "Valcour's" owner and Peter Stone were on hand to "sign" the models.
Chris Cassenti, (trainer) & "Valcour" put on quite a show for the crowd travelling all over the country!!!
Friendships through the years...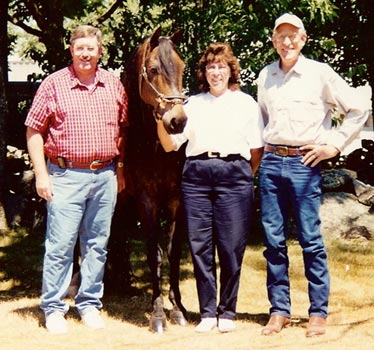 Pictured left to right:Rob McDermott, UVM Valcour, Chris McDermott, Peter Stone.