Horse Stabling
FOR EVERY HORSE STABLED AT CHRISLAR OUR HORSE STABLING SERVICES AND FACILITY INCLUDES: Horse Exercise or Horse Training and weekly instruction for you riding or working with your horse. We tailor our services to the needs of you and your horse. Includes turnout and much more:

Social family friendly environment
Easy access ½ mile from I-95 Exit 78
MA Licensed Riding School with MA Licensed Riding Instructors
Staff available all opening times
College graduate staff members provide riding lessons, working/training horses, and all horse care needs (turnout, stall cleaning, feeding and other services
Owners live on premises for after-hours needs
Feeding and watering twice daily (additionally as needed)
Hay and Nutrena & Purina Feeds (feeds for special diets also available)
TNS Vitamin Supplement
Stall cleaning and bedding
Staff Turnout Horses (weather permitting)
6 turnout paddocks surrounding front, side and back of facility
Staff assisted vet/farrier/dentist visits
Farrier/Blacksmith & Veterinarian just 10 minutes away
Routine and Emergency Health Care support
Scheduling Vaccinations
Scheduling Farrier/Blacksmith
Scheduling Equine Dentist
Scheduling other Alternative Care Services
Equine Massage Therapy
Chiropractic/Acupuncture Treatments
Maintaining Your Horse Records
Regular clipping
Tail upkeep
Provide advice on tack purchases and riding attire
Schedule tack repair
Facility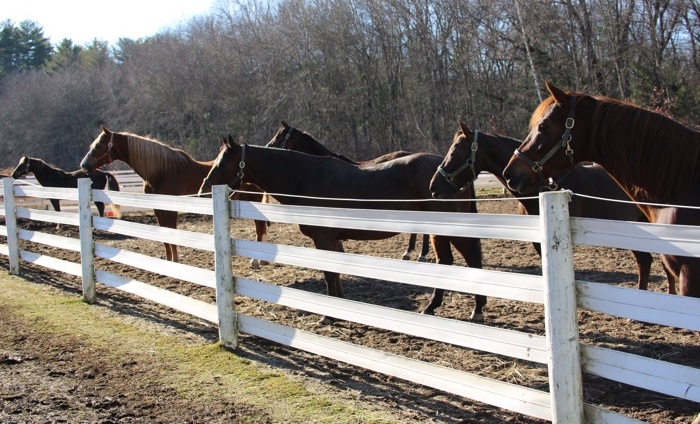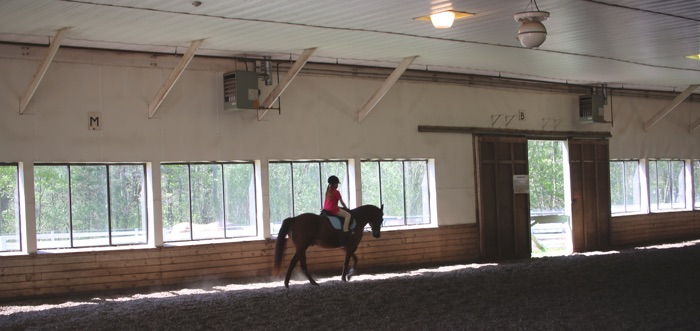 Heated Indoor riding arena with 3 doorways into barn
Insulated airy barn - 15 ft. ceilings - warm in winter, cool in summer
Hot/Cold Water & Heated Wash Stall
Matted stalls
Hot-top barn aisles
Fire alarm and security system
Music piped throughout barn & arena from professional PA system
Heated tack/viewing room
Restroom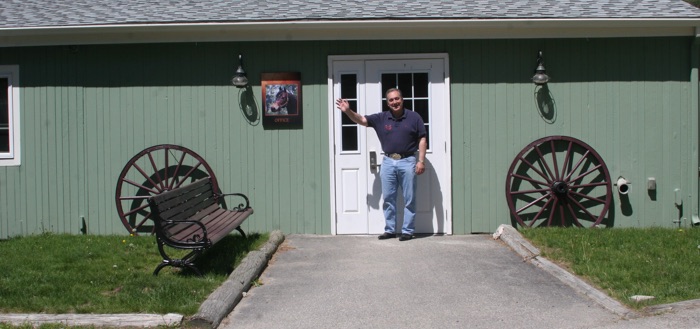 Grounds
Outdoor Arena 50 ft from back barn aisle door
40 ft. wide driveway entrance with paved driveway
Dedicated Parking lot to accommodate 20 vehicles at Barn entrance
½ mile training track
Driving ring out back
Access to state forest trail system from property
2-Horse and 8-horse trailer and 2 CDL drivers for supporting off-site shows and other activities on our schedule.
On-site services at additional cost:
Blanket/Sheet/Saddle Pad repair
Blanket/Sheet/Saddle Pad Washing
Body Clipping/Trace Clipping/KY clipping
Horse Shows
Many of our horse show clients enjoy participating in the care and preparation of their horses and horses for other Chrislar riders at the shows… "Team Chrislar". This not only keeps horse show costs for you down, but also provides a learning experience with rewarding results.
Annually, we provide a Horse Show Services Price List to Chrislar Clients for each horse show that covers:
One 1-hour group lesson per week at no additional charge for those having horses in training at Chrislar committed to the Chrislar Morgan Show Program
Organize & Prepare Entry Blanks
Chrislar Personal Trailering to Shows/Events including loading and unloading horses and supplies
Providing stall area drapes, decorations, plants, electrical/lighting, tack and changing stall carpet and equipment, get-ready stall equipment, horse feeding, mucking and caring supplies, tables and chairs
Set-up and tear-down
Managing schedules and coaching practice rides and rides during classes at each Show